Why sales people MUST start focusing on their existing customers.
When sales leaders sit down to devise their go-to-market plans, there are nearly always 2 broad categories that they investigate: customer acquisition and customer retention. Historically, the relentless pursuit of new logos, or 'net new' customers has blinded many vendor sales leaders to the fact that customer retention is now more important in this new 'customer-led era'. Allow me to explain:
Firstly, in the research phase of my book, I conducted extensive long form interviews with enterprise level companies, and every single one of them is currently engaged in some form of vendor rationalisation. The vast majority of businesses (small, medium and large) are now searching for ways to do 'more business with less vendors'. Meaning that it's getting harder and harder for sales people to acquire new customers, because customers DON'T want new vendors….they want less vendors!!

Secondly, 100% of the people that I interviewed all agreed that their expectations of vendors has risen dramatically with one stating that:

Thirdly, the ongoing and rapid proliferation of consumption based models (cloud and MSP delivery models) now means that the old days of hit & run selling have been replaced by what I call the 'extended buying journey' . Rightly so, buyers can now demand a 'risk shift' away from the old front loaded contracts where vendors get paid up front and in full, and then leave the customer to try to extract full value from the product. Those old models are fast becoming extinct in almost every industry, and sales people will have to get used to investing more time and resource into each and every existing customer.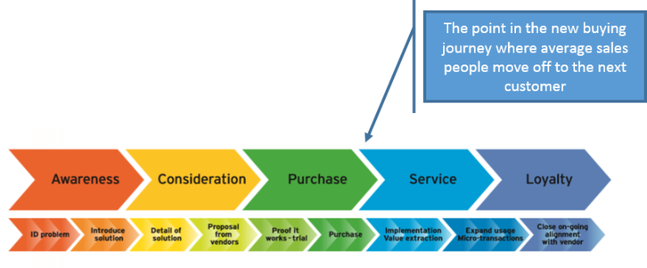 I recently stumbled upon an excellent article by Gerald Adolph & Kim David Greenwood (http://bit.ly/1NgrOu7), where the authors posit that there are in fact 3 areas where businesses can find growth:
In-market growth: seeking out new growth opportunities among your existing customers in core markets.

Near-market expansion: pursuing opportunities in unfamiliar sectors or with new products. Expansion through adjacencies.

Disruptive growth: responding to dramatic change with entirely new business models and capabilities.

Despite the fact that every sales person knows that it's much easier to sell something new to an existing customer than it is to find a new customer, we are still witnessing a fascination with the shiny attractive adjacencies and disruptive growth options……grass always appears greener. Apparently, only a small number of sales leaders ever truly understand the concept of Customer Lifetime Value (LCV), but that's a topic for another post.
Clearly, businesses need to find the right balance across all growth opportunities for sustainability, but it reminds me that my career in sales has been horribly skewed towards finding new customers as opposed to building deeper and wider relationships within existing accounts. I honestly believe that the companies that I have worked for left large sums of money on the table due to the misguided pressure to always 'find new customers'. 
In the early-mid nineties, I was working with a large US software vendor who (like many others) was driven almost entirely by how 'the street' would interpret its quarterly results. The message that was filtered right down to the sales team was simply that "new licence revenue is what drives our share price….not recurring Maintenance & Support". So, my remit (and in some cases my comp plan) was always clear…'find and close net new customers'. Back in the good old days when demand was high and competition was low, it was actually possible to acquire new customers whilst maintaining high margins without too much effort. Nowadays, it's increasingly difficult and some of the statistics below support this premise:
44% of companies have a greater focus on customer acquisition rather than retention (Invespcro.com)
It costs 5 times as much to attract a new customer as it does to keep an existing one (Invespcro.com)
63% of sales people are deemed to be under-performing (Harvard Business Review 2016).
Studies show the average B2B sales team loses 27% of its members per year (Alec Ross).
Only 2% of cold calls ever result in an appointment (Leap Job).
All of these somewhat diverse figures are congruent with my own experience except that I would say that intuitively some of them are a little low. Which is why I'm amazed that I'm still witnessing vendor sales teams that are obsessed with new customer acquisition when more often than not there is low hanging fruit just sitting in their installed base. By spending more time concentrating on your existing customers, sales people will not only create improved sustainability in their own businesses, but they will also be giving their customers exactly what they now demand:
Partners not suppliers – customers want a deeper and longer relationship with their vendors. And a great CX.
More business with less vendors - every B2B buyer is trying to find ways to rationalise vendors.
Trusted advisers – customers want sales people that know their business inside out, and that can anticipate their needs, and add value throughout the extended buying journey.
Of course it will always depend on where your business is within the industry life-cycle as to how much you balance your strategy across acquisition or retention. Regardless, a heightened focus on delighting you existing customers will give your customers exactly what they now want and expect. 
So protect and grow your existing customers (via in-market growth), because if you lose them, finding new customers to replace the defectors will be even more difficult than you could have ever imagined.