Outsourced Sales & Marketing
Outsourced Sales Enablement.​
With our international team of modern selling subject matter experts, SalesTribe delivers a Sales Enablement POD of subject matter experts to build the foundations of your GTM approach. Each SME is hand-picked to bring specialist leadership knowledge, expertise and value to your business.
Bespoke Sales Enablement programs – we customise a POD of Sales Enablement subject matter experts to address all of the key foundations of how you go-to-market: Strategy, Planning and Execution.
Outsourced Sales Development (SDR/BDR)​​
Old tactics will no longer open new doors, and Sales Development is now the most difficult component of sales execution: relentless prospecting, extremely low response rates and frequent rejection. ​
The Future of Work has spawned hybrid and remote working models which increases the need for more cost-effective and efficient ways for businesses to acquire and retain customers.
Identifying, hiring, onboarding and retaining your own salespeople has just become increasingly difficult. Costs associated with continued sales staff attrition is killing many businesses.
Outsource the risk, and the high cost of acquisition to SalesTribe. We create the conversations allowing your team to focus on doing what they do best – solving your clients problems and generating your revenues.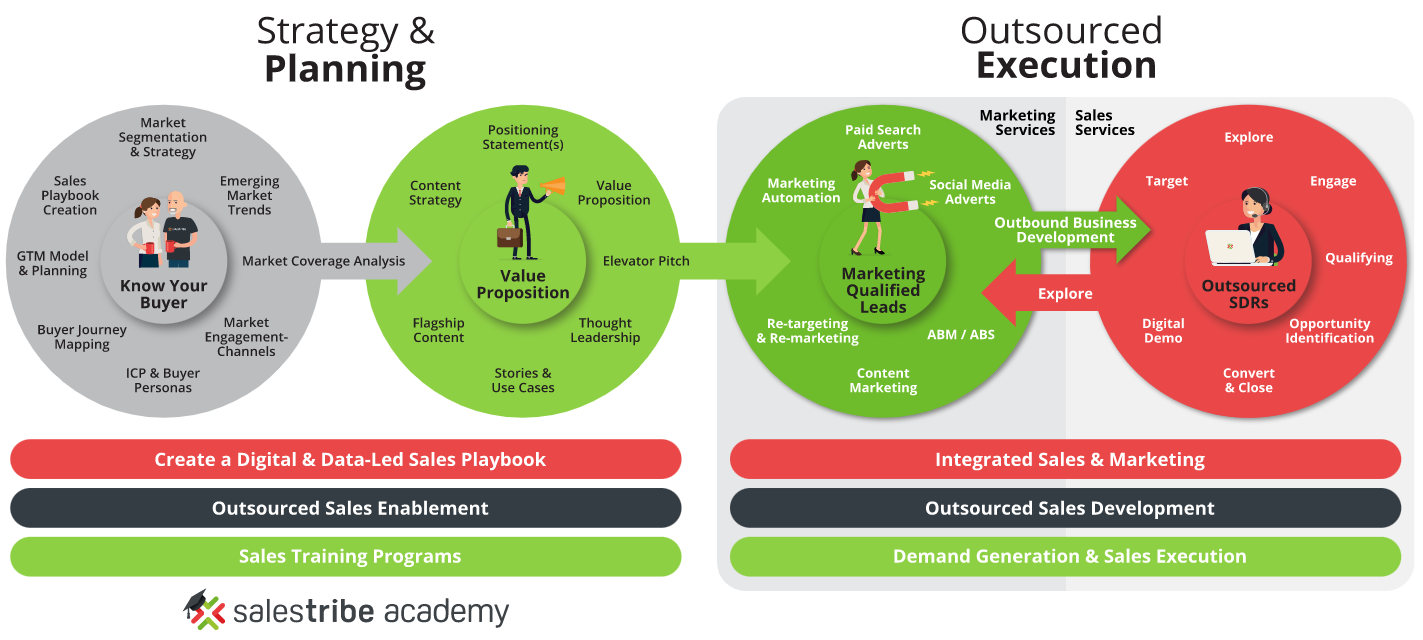 Fractional Sales Leadership​​​
Our Tribe comprises some of the world's best Sales Leaders, and you can now bring one of our certified Sales Leaders into company on a short-term basis, helping you to develop and implement a modern sales strategy, train your sales team, and manage all aspects of your sales operations.
Gain access to one of our experienced Sales Leaders at a much lower cost compared to hiring a full-time sales executive, with the added flexibility of being able to adjust the level of support as needed. ​
Market Entry Services​​
Are you looking to establish your business presence in the APAC Market? ​
SalesTribe can help you navigate the complexities of a new market and minimize risks associated with entering it.​
Our market entry services can include market research and analysis, go-to-market advisory, regulatory and legal compliance, sales and distribution channel establishment, ​ Most importantly, we can represent your business in-market and become your team on the ground to help you accelerate (and de-risk) growth. ​
We help rapidly amplify your brand through our unmatched TRIBE and network of connections. ​