The 5 Forces of 'change' for Sales People
There are a myriad of driving forces that are now impacting the sales profession, and these forces are pushing and pulling the traditional role that B2B sales people have played in a different directions. What are those forces, and how do you combat them?
There are a myriad of driving forces that are now impacting the sales profession, and these forces are pushing and pulling the traditional role that B2B sales people have played in a different directions, to the point now that the role is becoming almost unrecognisable compared to the one that I first began back in 1989. When you consider some of the ground-breaking changes (globalisation, the internet, mobility, social, to name a few) that we have witnessed during that time, it's actually not surprising that sales has changed so much.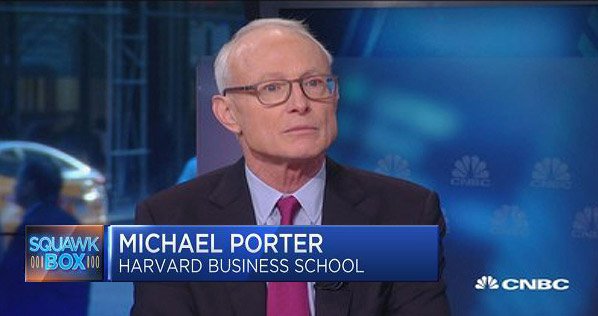 The internationally recognised business leader Mr Michael E. Porter (Harvard Business School Professor) created a brilliant model back in 1979 that was designed to help businesses leaders classify five competitive forces that shape every industry, and determine an industry's weaknesses and strengths. Porter referred to these 5 forces as a business's 'micro environment', and his model continues to be widely used by business leaders to this day. 
Porters 5 Forces Model: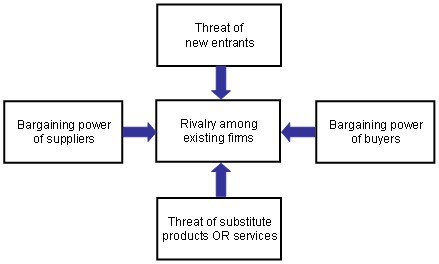 Although 'sales' is actually a 'profession' and not an industry, I recently began wondering if I could use the 5 Forces framework to assess the major factors (as I see them) that are impacting the sales profession. So here goes:
Driving forces now impacting the 'sales profession':
1 - Competition/Rivalry among sales people: One can now legitimately argue that continued expansion of the roles that both marketing and inside sales is now playing is eroding the traditional role of the outside B2B sales people. The explosive growth of 'Martech', has spawned a golden age of 'inside sales', where marketing and inside sales reps have vast amounts of information about their prospects, as well as more sales tools at their fingertips than it was possible to imagine even a decade ago. Thus, 'inside' has become a genuine rival for those 'outside' roles given that buyers no longer value the personal relationships or face-2-face engagements as they once did.
2 - Threat of new entrants: 'job automation' is the biggest threat right now. AI, Cognitive Computing, Robotics, Virtual & Augmented Reality are all advancing at speed and each one of these categories of technological innovation are posing a genuine threat to those aspects of the role that are routine and can therefore be automated.
AI will continue eating away at those aspects of the traditional sales role that require information synthesis and exchange. AI-powered sales enablement platforms are emerging that further empower buyers with data-driven services (at a fraction of the cost) and help automate aspects of the sales role. This data-driven approach to sales can help organisations reduce costs by taking the "black art" out of sales, by identifying repeatable and scaleable processes.
The successful incorporation of VR and AR into B2B sales models has the potential to vastly change the way vendors operate in the future. As Pokémon Go's success signals, smartphones can become a platform for VR/AR, and there is no doubt that these technologies will change the way that sales people engage with buyers into the future. With AR/VR start-ups raising $658 million in equity financing last year this area is set to explode into the future.
Guided Selling - simplifies and automates the maintenance and deployment of all knowledge that is required to analyse customer needs, define the solution, and generate a proposal to fulfil those needs – further automating and reducing the costs of the traditional role of sales person.
3 - Threat of substitutes for sales people: B2B sales roles are now increasingly under threat from eCommerce and self service, as more B2B buyers seek to bypass the sales person and gain commercial benefits from self-diagnosis and online purchasing. Of course, the element of the traditional sales role (information source) is also being eroded because everything is now available to buyers online. Let's not forget that back in the vendor-push days, sales people held all the cards because of information asymmetry…..now buyers have all the information which is turning vast numbers of 'generalist' sales people into high cost order-takers.
4 - Bargaining power of buyers: as I keep saying, sales people now have very little control and influence in the customer-pull era. Deny it all you like, but your buyers are in control of virtually everything now, and sales people in many industries are being marginalised simply because they don't create enough value in the eyes of their buyers. Increasing under-performance by traditional B2B sales people is the lag indicator that continues to highlight this fact.
5 - Bargaining power of suppliers: we now operate in global markets and the 'network effects' and increasingly complex partner ecosystems continue to gain more momentum as industries take shape and evolve. Sales people must work with more partners nowadays in order to continue to develop competitive differentiation. 
With all of that said, Porters 5 Forces only highlights part of the story for the sales profession. One must also consider the following (macro) mega-trends: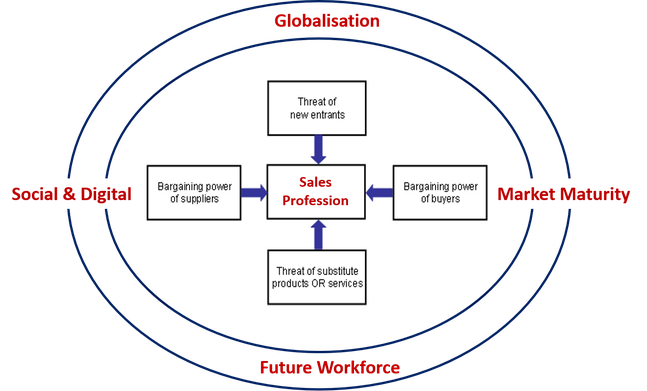 1) Globalisation: boundary-less markets means more competition (and disruption) from unanticipated sources than ever before.
2) Market Maturity: very few markets are now in those explosive growth phases that we have seen in the past two decades. Arguably, we have reached a 'new normal' where MOST products are commodities, and information asymmetry is no longer an issue. The power has swung back to buyers, and sales people are on the back foot trying to find ways to differentiate.
3) Future Workforce Trends: the rise of the freelance economy, self-employment and the concept of the 'Super-Temp' means that buyers increasingly do NOT value a long term relationships with a vendor sales person. Co-working, partnering and collaborating around short term engagements is the way of the future, as evidenced by the vastly different views that Millennials bring to approaching their careers.
4) Social & Digital: in order to sell effectively in 2016 and beyond, sales people need to be in the same place as their buyers. Increasingly this is on social and digital platforms. This mega-trend is forcing sales people to diversify their skill-sets and transform how they engage with buyers. No surprises there.
So, in summary, life looks very different for sales people in the coming years. I have absolutely no doubt that digital marketing will continue to encroach on the traditional sales role, until such time as the outside sales person is reduced to the specialist 'pinch hitter' that is wheeled in at that special 'hand-off' point in the buying journey where the customer needs a insights and advisory from someone that has knowledge that they lack. In this scenario, the outside sales person almost becomes the "closer" AFTER marketing/inside sales has leveraged all the tools and platforms available to give the buyer the right information, at the right time, via the right channel, to assist the buying process.
To be frank, I may have butchered Michael Porters 5 Forces somewhat by using it for a task for which it was not intended. However, Porters' model has helped me to flesh out some of the 'forces' that are now working against the traditional role of the outside sales person. This topic is so broad that it really is deserving of a book, and (cue the shameless plug) I'm almost finished that very book. Due for release in Feb 2017 – stay tuned for more information. Until then, open your mind, stay alert, and keep learning.